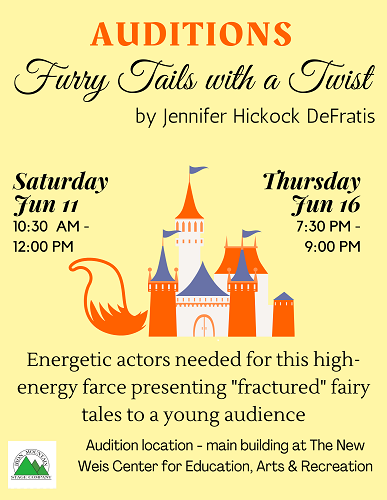 Iron Mountain Stage Company is looking for energetic actors for this show of "fractured fairy tales" aimed at young audiences. Actors of all types can be cast. Looking for ages of late teen and up.
Audition dates are:
Saturday, June 11 - 10:30 AM - 12:00 PM
Thursday, June 16 - 7:30 - 9:00 PM
Show dates are:
Friday, August 19 - Sunday, August 21
Auditions will be held in the main building at The New Weis Center for Education, Arts & Recreation.
Check back here or at IMSC on Facebook for more information about upcoming IMSC shows.
Click here to become an IMSC email subscriber
to receive our IMSC News & Announcements and also our Audition Notices via email!